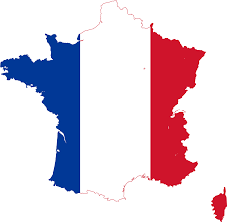 Founding member of the European Union
Total area:   643,801 km²
Population:  64,938,715
Currency: Euro
In Schengen area: since October 26th, 1997


Some history
Francia or Frankia, also called the Kingdom of the Franks or Frankish Kingdom, was the territory inhabited and ruled by the Franks, a confederation of West Germanic tribes, during Late Antiquity and the Early Middle Ages.
The kingdom was founded by Clovis I, crowned first King of the Franks in 496. Under the nearly continuous campaigns of Pepin of Herstal, Charles Martel, Pepin the Younger, Charlemagne, and Louis the Pious. The greatest expansion of the Frankish empire was secured by the early 9th century.

The singular use of the name Francia shifted towards Paris, and settled on the region of the Seine basin surrounding Paris, which still today bears the name Île-de-France and gave its name to the entire Kingdom of France. Most Frankish Kings were buried in the Basilica of Saint Denis, near Paris. Modern France is still named Francia in Western European languages like Spanish and Italian. It is also known in another variant, "Francja", in the Slavic languages of Eastern Europe. 
Today
It is not a coincidence if France is the first tourist destination to the world. The architectural treasures which it has as a crown of diamonds keeps illuminating the spirits of these visitors every year. The luxuriance of its heritage (holding) as well as the diversity of its relief and its climate make a world in miniature.
Some people look for a playground for multiple activities in the sea, in the campaign or in the mountain. Others are captivated by the splendor of the temples of the fashion design and the magic windows shopping of the big luxury brands of the jewelry, the perfume shop or the leather store.
You can also go on the meeting of a country of character to very strong regional identity, where each protects proudly and claims the traditions inherited from the geology, from the climate, and from the history of their areas. 
How do not to mention this Soft France without approaching its gastronomy that even an encyclopedia would not be enough for summarizing it. This mysterious art to transform the most disgusting dishes, as the frogs' legs or the snails in sublimate delicacies...
The climate in metropolitan France is moderated, with marked regional differences. The temperatures are relatively soft and the pluviometry is distributed all year round.
French is the official language of the country. Regional languages (Breton, Corsican, Catalan, etc.) are spoken only locally and by Frenchman's minority.
Sports nation
France is a leading player of the world sport. It participates in many international competitions for any sports.
Soon, our country is going to organize big events sports as the rugby World Cup 2023 and Olympics Games in 2024.