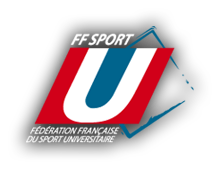 French Federation of University Sports (FF Sport U) promotes and organizes school sports competition in France for students of higher education institutions (Universities and Schools); Under the supervision of the Ministry of Higher Education, Research and Innovation, in agreement with the Ministry of Sports, FFSU is a member of the Internation University Sports Federation (FISU), the European Unviersity Sports Association (EUSA) and the French National Olympic and Sports Committee (CNOSF). It has 118 000 licensees in 2018. 
At the national level, it organizes each season, 23 000 matches of collective sports, 1500 individual sports events, 800 Academy Championships and 120 France Championships. 
Internationnally, FFSU represents France at the Summer Universiade and the Winter Universiade, the largest multi-sport events in the world after the Olympic Games, held every two years, as well as more than 30 universities world championships.